While browsing through stationery products on Etsy last week, I ran across a brand of ink that was new to me: Monarca Ink, a Mexican brand. Currently, the ink is only available in the USA through the Monarca Stationery store on Etsy, but I hope that it becomes available domestically in the future because I'd like to get a couple more bottles. After a very brief moment of consideration, I bought a bottle of Manglar.
Monarca inks ship in 30ml glass bottles, and each comes with a wooden bottle base/pen rest, which is a nice touch, and its a good idea for these taller ink bottles. Each bottle costs $20, and shipping is expensive but very fast… my bottle arrived from Mexico in two days. Shipping is expensive enough that it makes sense to order multiple bottles at the same time. The glass bottle is a standard 1oz. Boston bottle and is nice in the hand, but the bottle opening suffers from the same problem that 30ml Diamine bottles do; it's too small for pens to be inserted beyond the section. Ultimately, they're no problem at all for pens that use a cartridge converter, but piston fillers will require the ink to be decanted for filling.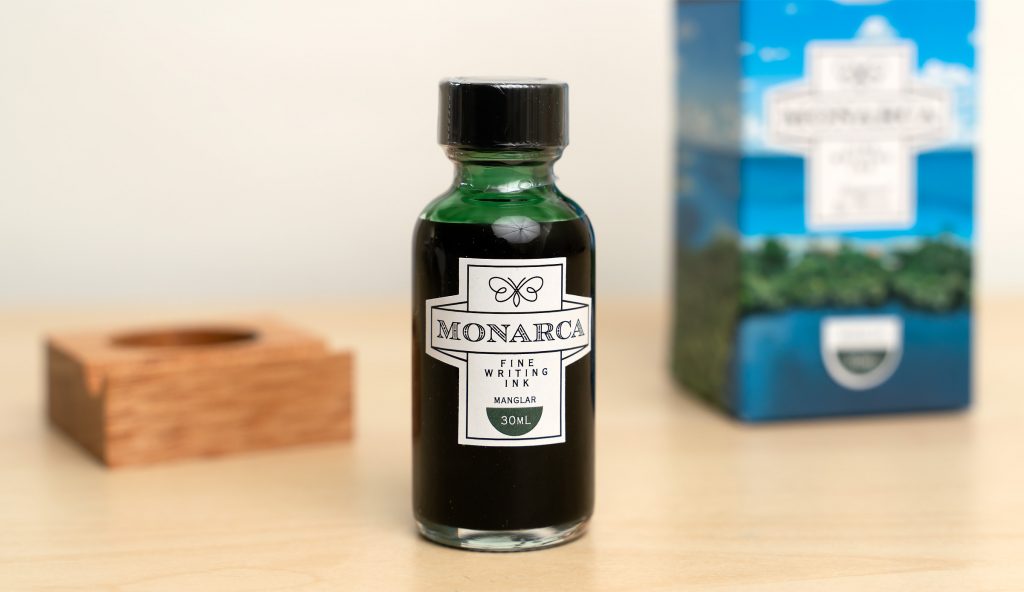 Manglar is the Spanish word for "mangrove", the trees that are common along the Gulf of Mexico (and in the tropics around the world). Monarca has two series of inks, each containing four inks: the first is desert themed and the second is Mexican Caribbean themed, and Manglar falls into the latter.
The ink is a beautiful dark green that I'd call a dark olive green, though it's not truly olive… it's somewhat bluer than that, but it looks very olive compared to most of my dark green inks that are pine greens or nearly teal.
As usual, I swatched the ink on several different papers. Here, I'm showing the swatches on a Col-o-ring, Rhodia, Cosmo Air Light, and Tomoe River (68gsm version).
Here you can see the Monarca Manglar ink compared to the most similar inks in my collection. The closest is probably Noodler's Zhivago, which is so dark that it is nearly black in everyday use, though it does have the advantage of being waterproof.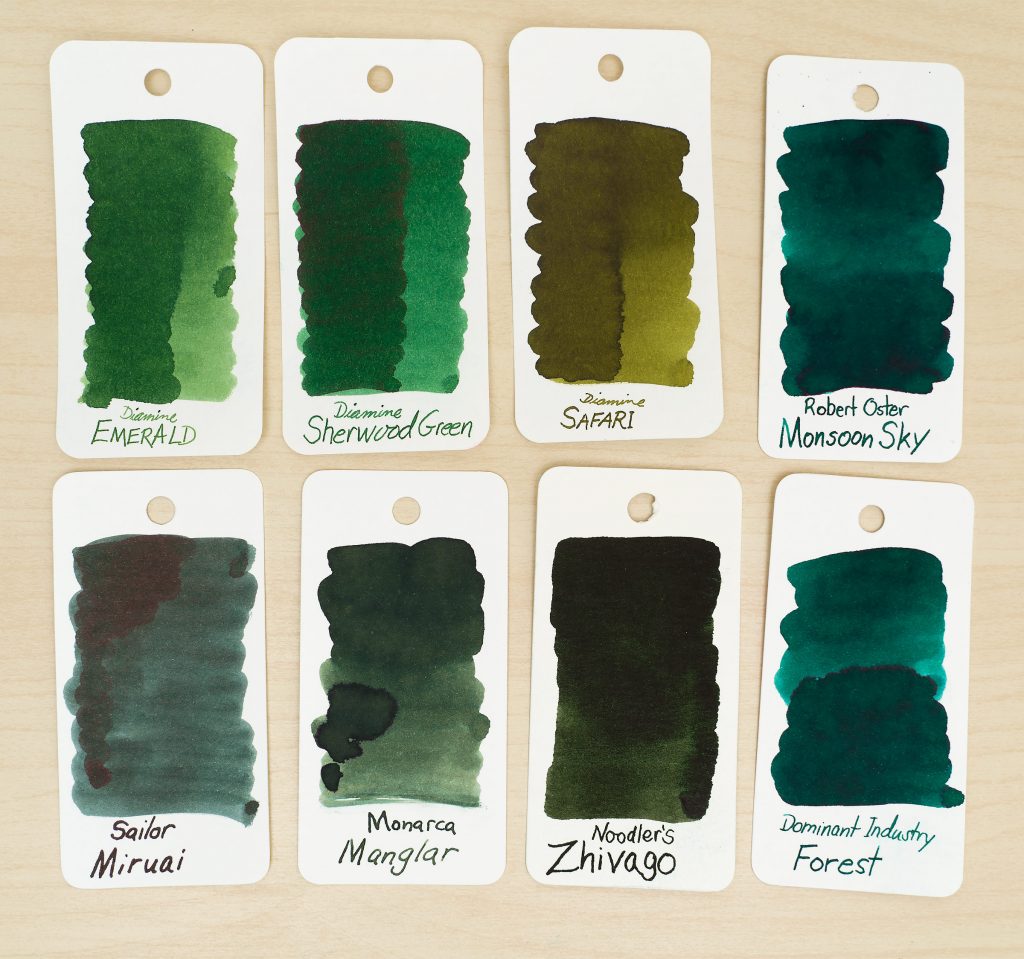 When it comes to writing, the ink is well behaved and doesn't stand out in any particular characteristic: it's about average in terms of flow, doesn't feather or bleed, and there's no sheen or glitter (though three of the Monarca inks do include glitter). Shading can be good and strong, though not dramatic, depending on the nib. Thicker application of ink does tend to make the ink appear cooler in tone.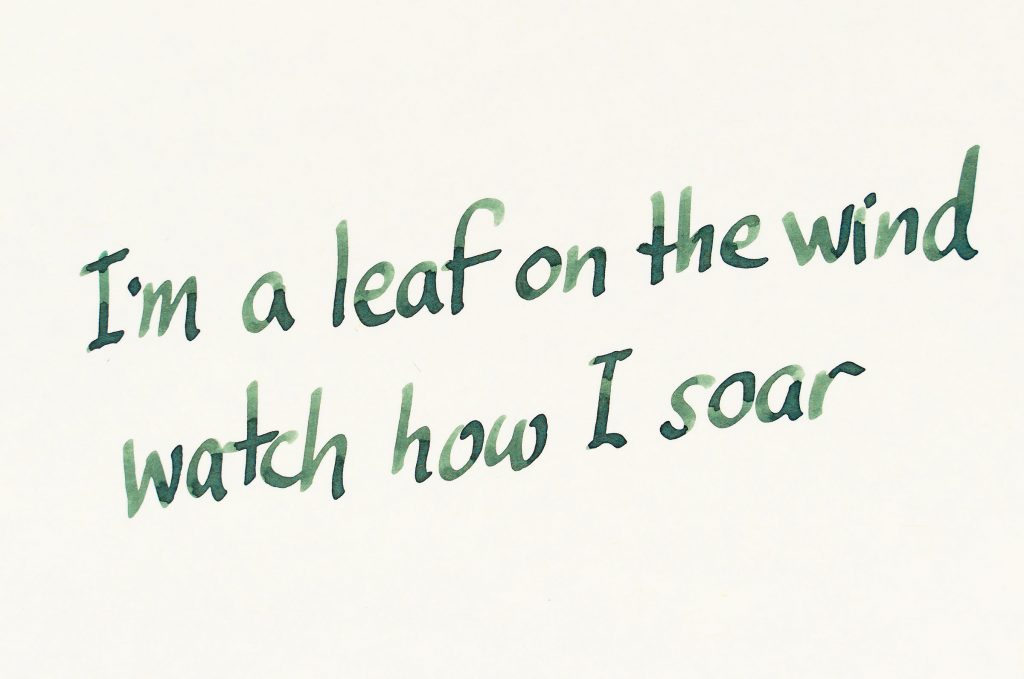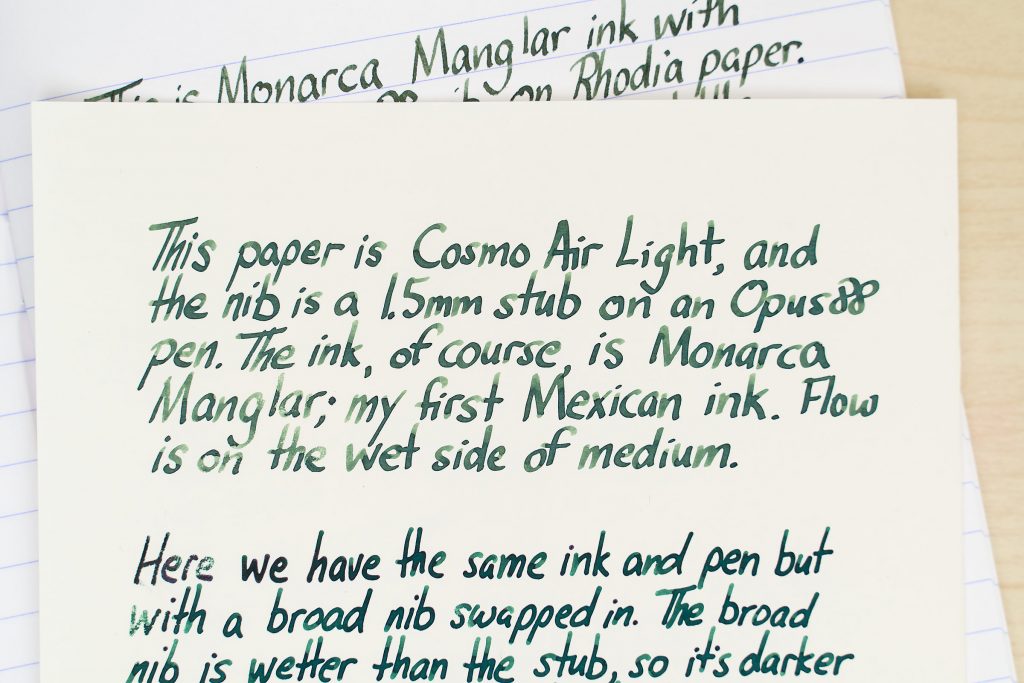 Monarca does not claim that their inks are waterproof, but I tested it anyway, and found that the ink behaves as expected: it offers no water resistance.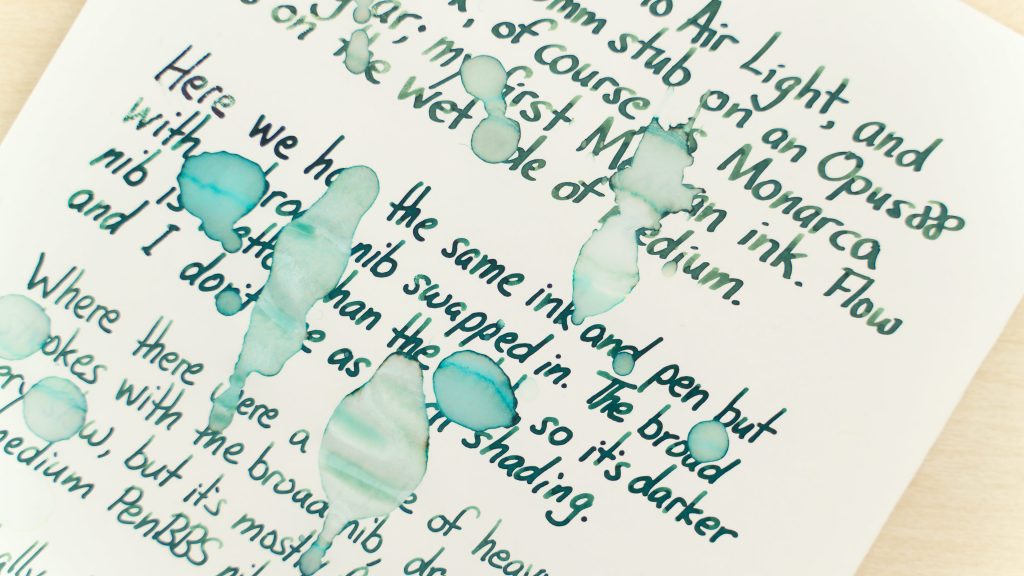 Overall, I love the ink, especially when used on cream or ivory colored paper. This review is not sponsored, and I'm not affiliated with Monarca in any way. However, if you'd like to support reviews like this, my Etsy links are always affiliated, and using them can help offset the cost of my future ink purchases. The Monarca Stationery Etsy store can be found here.