I was initially attracted to Lemur Ink by the company name (I went to grad school for anthropology), and then I saw that they had their very own exclusive Blackstone Ink: Lemur Lime. I had to have it. Who could resist this gorgeous shade of moss green, with its wonderful shading and the iconic prosimian to top it off? I couldn't. I have more blue and teal inks that I can count, but hardly any true greens, so Lemur Lime looked like a great addition to my collection.

And it was. I have a couple of flex-nib pens that I really like, but they tend to lay down so much ink that the colors get too dark to appreciate, so I prefer to use lighter inks in them, and Lemur Lime is ideal, there. On thick strokes the ink dries to a warm grass green, while in thinner areas it's a brighter yellow-green; it's a gorgeous effect.
Even in a normal medium nib pen, the color is dark enough that it's easy to read for standard writing, while still appearing bright and yellowish.
The ink is on the thin side, and the flow is a bit wet. With a glass nib pen, Lemur Lime produces a thick, relatively dark line. With my flex pen, the surface tension of the ink seems light enough that I get some railroading more often than I'd expect, but it's not terrible. I don't have any problems with hard starts in a medium nib fountain pen, though, and I can leave the cap off of my pen at rest for over a minute and still not have any difficult starting my next word.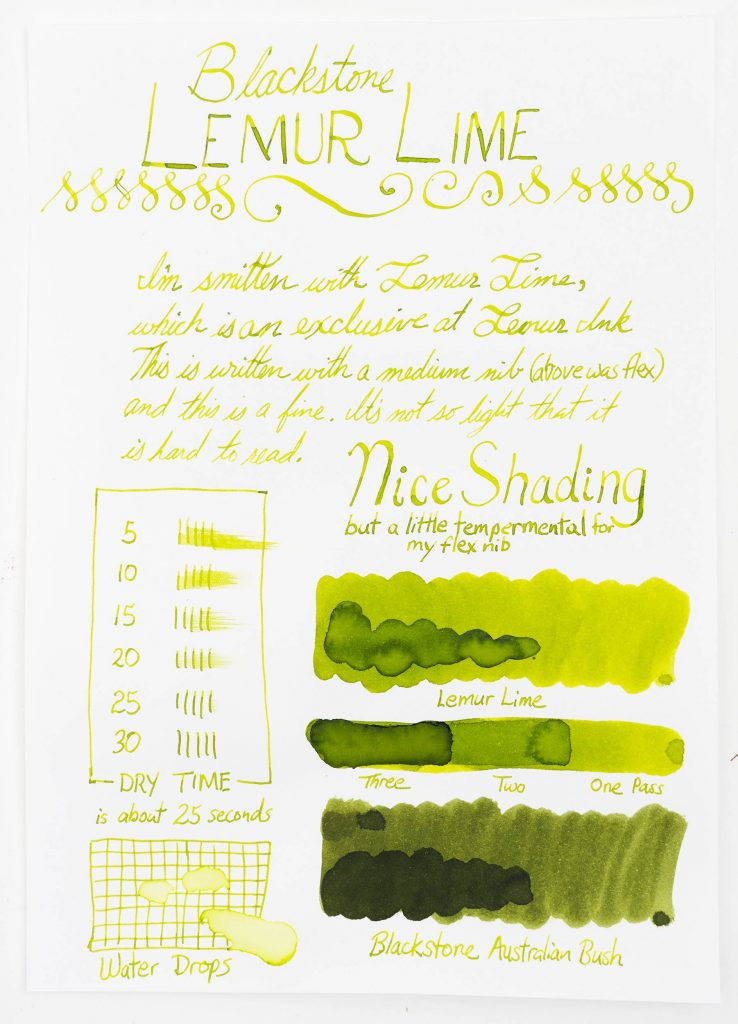 On Clairfontaine Triomphe paper, dry time is pretty average at about 25 seconds, and it's a little faster on Rhodia. Lemur Lime has no pretensions of water resistance. Also no sheen and no glitter.
As I mentioned previously, I don't have a lot of green inks. The only color to which I can compare Lemur Lime is another Blackstone Ink: Australian Bush, which is similar but significantly darker.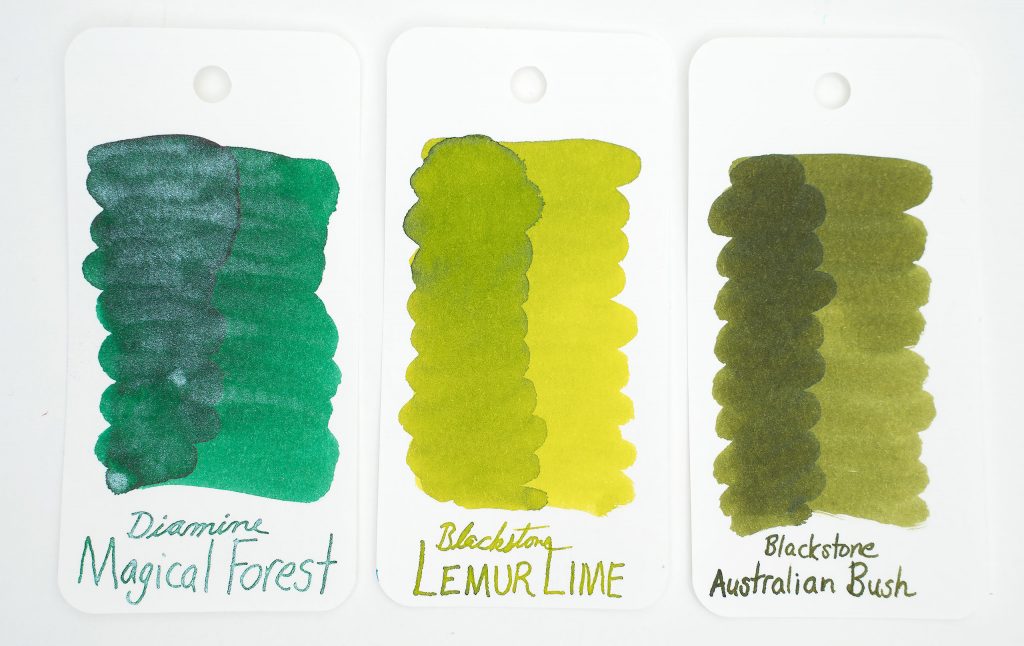 Of course, this is not the sort of ink that is going to be practical for daily use at the office. I happily write with it in journals and notes, though. If I could figure out some kind of a rating system for these reviews, this one would be high all around… except for the fact that I get giant blooms of ink dried on my nibs if I let the ink sit in the pen for a couple of weeks. Below, the two pens sat for about two weeks before they looked like this. They're not especially tight sealing, but this doesn't happen with most other inks.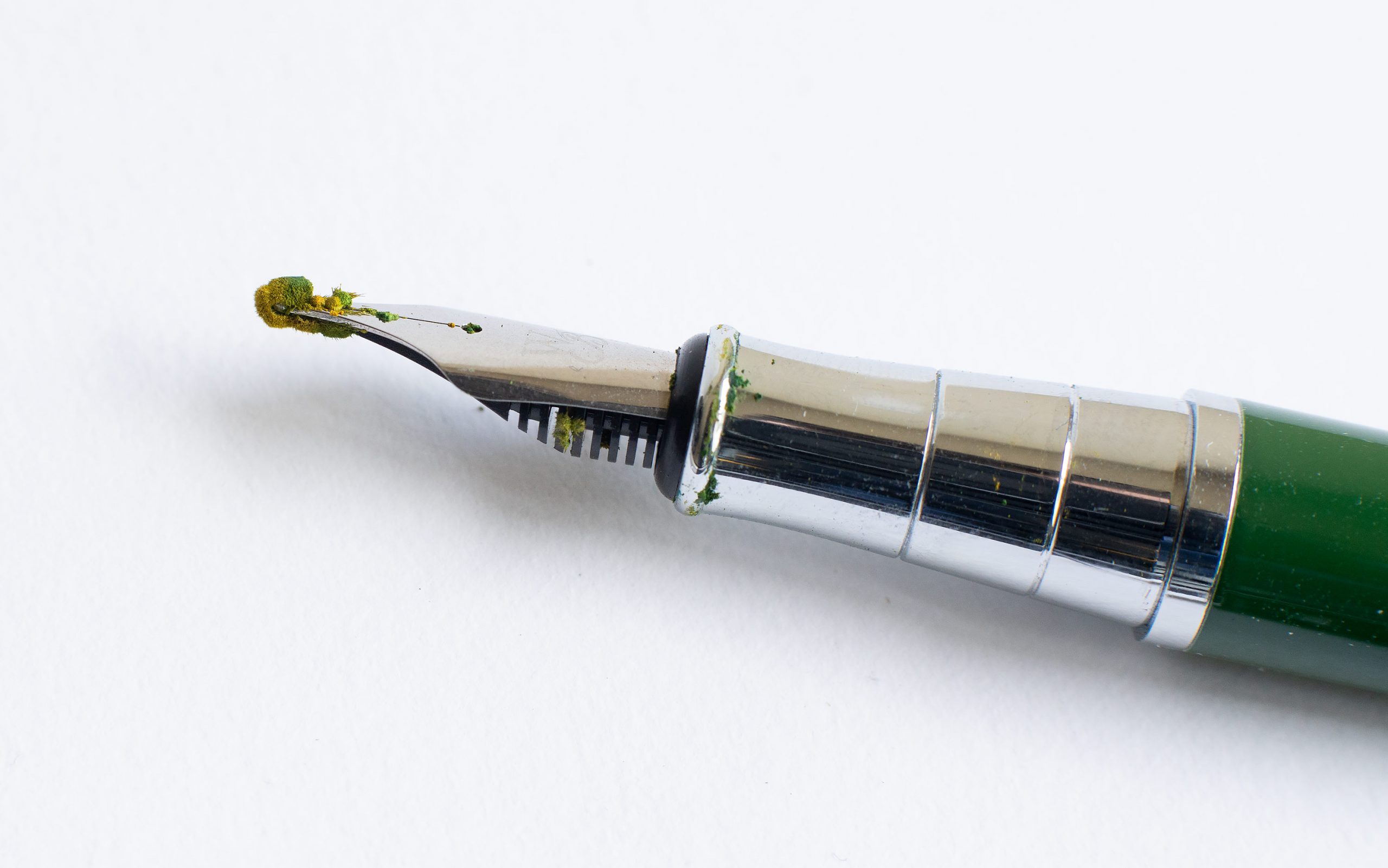 What do you think? Is this the sort of color that you'd like? What inks do you think are similar? Let me know in the comment section below.